gorgeous bits 'n' pieces
Scroll down this page for the fabulous
gorgeous selection of bit's 'n' pieces
Other Fabulous Retro Gear
As well as all the great gear made "in-house" by gorgeous,
we also "buy in" a number of other fabulous ranges...
Because we have no control over manufacturers' stock holdings
or availability of these lines - supply for the following ranges
or styles can sometimes be subject to fluctuation...
Just contact us for any garments that you're interested
in & we can quickly get back to you re availability...
The gorgeous privacy policy
Put simply, we will always respect your privacy
Absolutely nobody will get your email, name, address,
telephone number or any other info you provide us
This policy is "set in concrete" - as it should be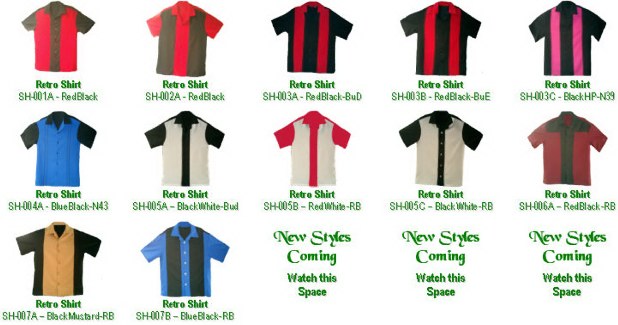 Retro-Scene Buttons
It's not only the great quality, style & finish of the fabulous Retro-Scene shirts range that
"catches your attention" - check out the fabulous buttons that are on most of their shirts
Please Note - The "Retro-Scene" range continues to change & evolve, so
not all styles will necessarily still be available - or available in all sizes
Bobby Sox
fabulous quality sox made exclusively for gorgeous
97% cotton, 3% elastene - not too thick, not too thin
White Bobbies




Rock 'n' Roll

Ladies Flames

Boop A

Betty Boop B

Lace-Tops

Available with a wide

selection of lace colours
Embroidered Shoe Bags



Embroidered with the above images

Black or Navy - hold 2 to 3 pairs

600 denier textured nylon

"breathable" mesh sides

heavy duty nylon full length zip

name-card holder on back
Embroidered Hand Towels
It can be hot work when you're "dancin' ya sox off", so sometimes it
can help to have your own personal towel to do a quick "mop-up"
These towels are "double-stitched", 100% pre-shrunk, pure cotton - not
those dreadful non-absorbent teflon-coated or micro-fibre towels
Let's face it - you need a towel that "works properly" when you want to
do a couple of "quick mop-ups" during your heavy dancin' sessions
They're also industrial grade - suitable for Hospitality, Healthcare
& Commercial Laundries - & especially for hot dancing
So the quality is absolutely "top-notch"
They're a very handy size of approximately 60cm x 38cm (24" x 15"),
meaning they're easy to carry around & conveniently store
They can also be embroidered with your dance school, company logo,
club, or design - contact us for an obligation-free quote
They're available in a wide range of colours & they're embroidered
with the same images as on the Shoe Bags shown above
Men's Belts
made in australia from imported Italian leather
you can also "clip-on" your own buckles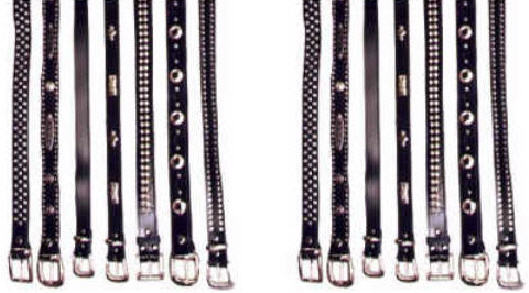 Cleaning Scuff Marks off Patent Shoes
When you're on the dance floor, chances are that sooner or later, someone will
"jump on your feet" & mark the patent - here's a tip from a gorgeous customer
Hi Ray & Mary,
I have found a product that appears to clean the Patent really well, I have attached a couple of shots of my shoes after I cleaned them, and I forgot to take any before.
No doubt they'll be marked the next time I wear them, so I'll take some photo's before cleaning them.
1. I followed the instructions on the bottle:
2. I used a cloth that was nearly dripping with fluid.
3. I then wiped the affected areas of the shoes
4. I waited 5-10 minutes.
5. I soaked the cloth again, and lightly rubbed the affected areas until the marks were gone.
6. I then cleaned the shoes with plain water, because the cleaner is very strong and I was worried it might damage the shoes if left on them.
7. I then used a cleaner and conditioner for the patent leather.
It took a lot of rubbing, but as you can see the shoes haven't got a mark. I also left writing this over the weekend to make sure the "Dissol" hasn't damaged the shoes.
Have Fun.
Keith Quinton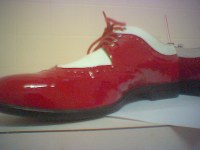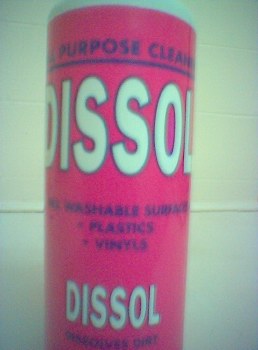 DISSOL is now available through gorgeous
& the gorgeous distributor network
Are you searching for gorgeous
gear prices on our site, but
you can't find any ???
gorgeous carries around 150 shoe styles with a "squillion"
colour combinations - and more than 350 other lines
including: guys 'n' gals clothes, belts, bracers,
towels, sox, ties, jackets, figurines, etc...
Our gorgeous shoes 'n' clothes are now being worn in
62 Countries, & we deal in 15 major currencies - so it's
virtually impossible to list all the individual prices in
all the currencies in a "non-confusing" manner...
Email us advising which Country or Australian State you're
from & we'll email you a Price List in your own currency...
gorgeous Gift Vouchers
Almost everbody has Gift Vouchers - but they can be so "boring"
Yes, the "thought" is there, & you'd like to give the receiver
some "choice" - however, they can often seem like:
" I couldn't think of anything else to give you, so this will do"
Which of course, defeats the whole purpose of your gift
Wouldn't it be great if you could still give someone "choice",
without losing that all important "personal touch"
Well - now you can
gorgeous offers Gift Vouchers which can be designed to your
requirements - & which can also be "personalized" with
photos of the recipient - & that's a worldwide first
gorgeous Gift Vouchers are a "gorgeous innovation", & they're
available in ANY currency & can be used from ANY Country
They can obviously be emailed to ANYWHERE in the world
More info & heaps of examples & details are at:

Gorgeous Contact Details
Lynne & Mal Hemming
Unit 2, 1A Park Avenue
Rosebud West, Vic,
3940, Australia.
Australian Info:

tel: 03 5986 3890

fax: 03 9830 0233

mob: 0468 548 719

International Info:

tel: +61 3 5986 3890

fax: +61 3 9830 0233

cell: +61 468 548 719
FREE INTERNATIONAL TELEPHONE CALLS
You can talk to us at gorgeous from your computer absolutely FREE
It's just like talking over the telephone - but you don't have to pay
those horrendously expensive international phone call rates
installed it, you can then speak to us completely FREE
You can even call people who don't have "Skype" or a computer
Yes, it does cost you a little, but we really do mean "a little" - & it's
also considerably less than those International Phone Cards
Costs of a 30 minute call between the following Countries & Australia
| | | | |
| --- | --- | --- | --- |
| USA: | USD $0.76 | New Zealand: | NZD $0.99 |
| Canada: | CAD $0.77 | South Africa: | ZAR R5.18 |
| United Kingdom: | GBP £0.48 | Japan: | JPY ¥63.58 |
| Europe: | EUR €0.57 | China: | CNY ¥5.04 |
Details are on the "Skype" site - under "SkypeOut"
If you have a webcam, we can even "eyeball" while we're talking
with "Skype" video calling - & this is also completely FREE
In the course of our gorgeous business, we make hundreds of
calls each year to our customers - right across the world
As you can probably tell, we're absolutley rapt with "Skype" - it's
a fabulous, easy to use utility - & it's saving us a "bundle"
"I knew it was over when I downloaded Skype," Michael Powell, chairman, Federal Communications Commission, explained. "When the inventors of KaZaA are distributing for free a little program that you can use to talk to anybody else, and the quality is fantastic, and it's free – it's over. The world will change now inevitably."
Fortune Magazine, February 16, 2004
gorgeous are located "down under"
in Melbourne, Australia
The current time here is:
Please note time differences between
where "we are" - & where "you are"
if you intend to skype or phone us
If you "click" on the clock, it will open a new window
showing you the Day & Date here in Australia